Lavish Grace: Poured Out, Poured Through, and Overflowing by Kathy Howard
My rating: 5 of 5 stars
"Lavish Grace is a unique, nine-week study of Paul's teachings about grace and ways he experienced God's grace in his life. Filled with contemporary examples of grace at work, this well-written format gives you the rare opportunity to combine a character and topical study into one rich, practical approach to Scripture. Lavish Grace is the eye-opening study you need to recognize how God's grace is being poured out on you and through you. His grace will give you reason to rejoice every day."
Read my full review here
---
Hebrew Word Study: Revealing the Heart of God by Chaim Bentorah
My rating: 5 of 5 stars
"Hebrew is a language of poetry and pictures. With Chaim Bentorah's expertise, you will see how to examine not just word definitions, but also the origin of the words, their place in the culture and idioms of the day, and even their emotional context. Through this devotional, you will walk the road less traveled as you uncover the deeper spiritual messages in God's Word. In the process, you will discover the heart of God toward you and come to know Him better. You will see just how beautiful the Word of God is and, most of all, you will see the beauty of God Himself and love Him all the more."
---
50 Things You Need to Know about Satan and Demons by Mark H. Muska
My rating: 4 of 5 stars
"A lot has been said about Satan and demons in music and movies, on the Internet and TV, but it can be difficult to figure out what's true and what's folklore. Professor Mark Muska uses the Bible to answer the most-asked questions about Satan and demons, including: Who is Satan? Does Satan really have horns, hoofs, and a tail? Can Satan read our thoughts? What is demon possession? Can anything protect us from demonic attacks?
You'll discover exactly what God's Word says–as well as what it doesn't say–about these mysterious beings."
---
Bethlehem Road: A Guide to Ruth by Michael Whitworth
My rating: 4 of 5 stars
"Out of the immense moral darkness of the Judges period comes a story of romance, redemption, and hope. The tale of Ruth has inspired countless generations. But Ruth isn't the star in this romantic drama; center stage belongs to God and his providence. Naomi and Ruth traveled the Bethlehem Road—one of famine, abandonment, grief, and loss—unaware that the Lord had gone before them to redeem their heartache."
---
Heaven, Hell, and Life After Death by Kay Arthur
My rating: 4 of 5 stars
In this eye-opening study you'll examine the Bible's answers about death and what comes next. As you confront the inevitability of death in the context of the promise of heaven and the reality of hell, you will be challenged to examine your heart—and in doing so, find that, in grabbing hold of the hope of eternal life, the sting of death is replaced with peace."
---
Living & Longing for the Lord: A Guide to 1-2 Thessalonians by Michael Whitworth
My rating: 4 of 5 stars
"The Christian life can have as many heartbreaks as "Hallelujahs." Circumstances confuse us. Sin frustrates us. The devil likes to inflict pain on God's children. Wouldn't it be great if we could go to heaven as soon as we become Christians and skip the confusion, frustration, and pain?
Sadly, it doesn't work like that; we have to learn to overcome this world while awaiting the Second Coming. In 1–2 Thessalonians, we are equipped to do just that. "Living & Longing for the Lord" will guide you through Paul's letters to Thessalonica in hopes of helping you become more like Jesus until he returns."
---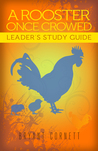 A Rooster Once Crowed: Leader Small Group Study Guide by Bryant Cornett
My rating: 5 of 5 stars
"A Rooster Once Crowed was built for group study. If you loved the commentary on the greatest story ever told, you'll love it even more in community. Leading a study can be daunting. Or if you've done it before, you know that the time involved in preparation can be a barrier. Consider this Leader Small Group Study Guide like a guidebook to a city written by a friend who loves it and has spent years exploring it. This Leader Small Group Study Guide guarantees a deeply profound experience for you and your group."
---
Making Sense of the Bible: How to Connect with God Through His Word by David Whitehead
My rating: 4 of 5 stars
"I want to read the Bible, but where do I start? The Bible can seem like an intimidating book, but it may be easier to understand than you think. Making Sense of the Bible will teach you how to enjoy studying it on your own."
---
The Book of Revelation Made Clear: A Down-To-Earth Guide to Understanding the Most Mysterious Book of the Bible by Tim LaHaye
My rating: 5 of 5 stars
"The Bible's final book, Revelation, can seem intimidating or downright impossible to comprehend, even for serious students of the Scriptures. Filled with complex imagery, vivid depictions of violence, and challenging spiritual references,, Revelation is often set aside by readers in favor of more straightforward, easier-to-digest biblical material. Yet the capstone of the canon need not remain a mystery.
Absorb this book and discover afresh – or for the first time – the richness of Revelation and its God-breathed, life-changing power to deeper your walk of faith."
---
Tested By Fire: Will What You Build Survive? by Kelley Latta
My rating: 5 of 5 stars
"When Christ returns and tests your life with fire, what will the flames reveal? Are you living your plan or God's purpose? One day every believer will stand before the judgment seat of Christ. What will you discover? Are you building on Christ's foundation for our life, or do you strive to do works in His name that will not stand? How you live matter."
---
The Derision of Heaven by Michael Whitworth
My rating: 4 of 5 stars
"Every day it seems the world becomes increasingly hostile to Christianity. Values are being scuttled, faith is scorned, and God's people are being marginalized. These difficult times pose two questions to Christians. How can we be the "light of the word" in such abject darkness? And how can God still be in control of all things?"
---
What Happens When Women Say Yes to God: Experiencing Life in Extraordinary Ways by Lysa TerKeurst
My rating: 5 of 5 stars
What Happens When Women Say Yes to God is about surrendering your whole life to God. Through scripture and her own personal experience, the author is a guide to what can happen when you develop a complete relationship with God.
---