The Power of Right Thinking: Transform Your Thoughts, Transform Your World by Kerry Kirkwood
My rating: 4 of 5 stars
"Let the Holy Spirit Transform Your Thoughts. Is your life everything you would like it to be? Do you feel like you are fulfilling your destiny or do you constantly fight against thoughts of condemnation, fear, hopelessness, or self-doubt?
Give Yourself a Break: Turning Your Inner Critic Into a Compassionate Friend by Kim Fredrickson
My rating: 4 of 5 stars
"It's time to start treating yourself the way you treat others. As children we're taught to treat others the way we would like to be treated. But as adults, we often need to turn that old maxim around. We're good at showing compassion to other people–but many of us have trouble showing that same compassion to ourselves. We say things to ourselves we would never say to a friend. And all this negative self-talk can have a devastating effect on our lives and relationships."
---
The Art of Work: A Proven Path to Discovering What You Were Meant to Do by Jeff Goins
My rating: 5 of 5 stars
Don't settle for the status quo. Live a life that matters. Life seldom unfolds the way we hope or plan. The twists, suspires, and setbacks leave us feeling stuck with no options left but to play it safe – to conform to what's expected of us. But what if there was more to life than this?
A calling is not some special opportunity reserved for an elite class of people. Meaningful work is available to anyone who dares to find it. The path before you is a perilous one, full of difficulty and challenges, but it leads to a legacy the world will not soon forget.
---
Never Ever Be the Same: A New You Starts Today by Kathy C Miller
My rating: 4 of 5 stars
"Have you ever proclaimed, "I will never be the same" about something in your life you absolutely wanted to change? This book will not only help you say it, but also make the statement a reality—and it can start today.
Never Ever Be the Same by Kathy Collard Miller and Larry Miller empowers Christians to look honestly at their motives and break free from the lies that fuel sinful patterns. We all respond in ungodly ways at times. We try to figure out why we fail in our words and reactions and even pray for God's help, but before we know it, we've succumbed again to distrusting God and taking it out on other people."
---
The Prosperous Soul: Your Journey to a Richer Life by Cindy Trimm
My rating: 5 of 5 stars
"I came so they can have real and eternal life, more and letter life than they ever dreamed of." "Prosperity comes from within. You were created to enjoy prosperity on every level – from a rich spiritual and intellectual life, to richness in your relationships and professional pursuits! The problem is that prosperity has often been reduced to a single measure: A dollar amount. Truth is, financial abundance is just one expression of what it means to live a rich life."
---
Fight Back With Joy: Celebrate More. Regret Less. Stare Down Your Greatest Fears by Margaret Feinberg
My rating: 5 of 5 stars
"Great Joy Waits in Life's Greatest Battles. Joy is stamped on coffee mugs, sewn onto decorative pillows – even displayed on dish soap. But what if there's a deeper power and purpose to this mighty virtue? Through vulnerable story telling, a difficult diagnosis, and a good dose of humor, Margaret Feinberg revels how joy is more than whimsy. Its' the weapon you can use to fight life's battles."
---
Your Life Still Counts: How God Uses Your Past to Create a Beautiful Future by Tracie Miles
My rating: 5 of 5 stars
"God still has a plan for you–not in spite of your past, but because of it! Do regret and shame over your failures, sins, and shortcomings make you wonder how you could ever be loved, much less used, by a holy God? Tracie Miles felt the same way until she discovered the path to healing, peace, and significance.
She helps you recognize that God not only has a purpose for you, but He has prepared you for your divine purpose based specifically on the experiences of your past. Through her own story and stories from other women who have discovered God's purpose for their lives because of adverse experiences, Tracie helps you see how God can turn pain into purpose. You will find forgiveness and healing from the troubles of your past, discover the courage to step out of your comfort zone to help others find hope and strength, and be inspired to step into the beautiful future God divinely designed for you."
---
The Significant Life: Overcoming Your Fear of Being Unnoticed and Forgotten by George M Weaver
My rating: 4 of 5 stars
"Is human life merely a brief episode between tow oblivions? From an eternal perspective, does our earthly sojourn reduce to the dash between the two dates on our gravestones? … "Jesus criticized those who "do all their deeds to be noticed by men." Yet we do the same thing today. A great deal of our activities are born of this desire for attention and the often desperate fear of not being known, appreciated, influential, or remembered. Christian meets this need in a resounding way."
---
Greater: Dream Bigger. Start Smaller. Ignite God's Vision for Your Life. by Steven Furtick
My rating: 5 of 5 stars
"Most of us aren't in danger of ruining our lives, we're in danger of wasting them. Are you dissatisfied with the kind of Christian life you've settled for? If you are tired of cul-de-sac Christianity or self-help pseudo solutions, today is the day God's greater plan for your life begins in full force."
Greater by Pastor Steven Furtick arrived at my door a few weeks ago. I didn't have a chance to begin reading it until two days ago. This book arrived on exactly the day that it was supposed to… and it totally blessed me from the first page until the last. I actually kept hoping for more, but 200 pages was all there was in the book!
---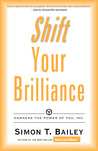 Shift Your Brilliance: Harness The Power Of You, INC. by Simon T. Bailey
My rating: 4 of 5 stars
"Brilliance is a decision. It's time to disrupt your current reality and experience your Shift Into Brilliance"<
---
Reclaim Your Soul: Your Journey to Personal Empowerment by Cindy Trimm
My rating: 3 of 5 stars
"Beloved, I pray that you may prosper in all things and be in health, just as your soul prospers. (3Jn 2). Have you ever wondered… If everyone wants to succeed, why do so few people become successful? Can certain relationship patterns prevent me from stepping in my destiny? Are there habits or behaviors in my life that keep me from fulfilling my purpose? Develop the skills you need to succeed in life! While (the Authors' first book) The 40 day Soul Fast focused on the 40 characteristics of an authentic person… Reclaim Your Soul focuses on the 40 behaviors of a resilient person."
---
Love. Period.: Loving Those Who are Not Like You by Rudy Rasmus
My rating: 5 of 5 stars
"What would happen if we truly loved those who are different from us in race, background, abilities, gender, economic status, identity, or physical condition? How would our communities change if we stopped being afraid of those who don't fit our definition of "loveable"? How would our hearts find greater joy if we acknowledged the risk of living without conditions – and did it anyways?"
---
The Hope Quotient: Measure It. Raise It. You'll Never Be the Same. by Ray Johnston
My rating: 4 of 5 stars
The Hope Quotient by Ray Johnston

"What's at the heart of every thriving person, every thriving marriage, kid and business? Hope! The Hope Quotient is a revolutionary new method for measuring—and dramatically increasing – our level of hope. Hope is more than a feeling; it's the by-product of seven key factors. When these are present in your life, they cause hope to thrive."
---
Clout: Discover and Unleash Your God-Given Influence by Jenni Catron
My rating: 4 of 5 stars
Clout – Discover and Unleash Your God-Given Influence by Jenni Catron
"You have Clout. Have you discovered it yet? We all long for significance, even as we fear we will never be good enough. We listen for God, but hear only voices of doubt and practicality. Listen again. There is a call that only you can answer."
---
Stop Waiting… Start WINNING!: 10 Steps to Living Your Vision NOW! by Teresa Hairston
My rating: 5 of 5 stars
"God created you to be visionary! You may not feel like one. Or maybe you are completely burnt out on vision because you're had so much of it – and nothing has happened… yet. In Stop Waiting… Start Winning! Dr. Teresa Hairston shares ten life-changing principles that you can apply to see your dreams become reality."
---
The Power of a Half Hour: Take Back Your Life Thirty Minutes at a Time by Tommy Barnett
My rating: 5 of 5 stars
"Turn your fleeting minutes into defining moments. What can you do in thirty minutes? Have lunch? Watch television? Check Facebook? How about change your life? Why do some people achieve far more than others? We all get the same twenty-four hours in a day, yet a special few seem to have superhuman abilities when it come to accomplishing great things in life. Why not change time from being your worst enemy to your everlasting friend? It all starts with the amazing things you can do in only a half hour."
---
Total Turnaround: 12 Keys to Breakthrough in Every Area of Your Life by Danette Crawford
My rating: 4 of 5 stars
"Are you experience trials or setbacks in your life? Through challenges are a normal part of life, they don't have to become your entire life. Isn't it time you had a Total Turnaround? Your breakthrough is waiting. Discover how to receive the victory God has made available for you, and experience your Total Turnaround today!"
---