Every Season Prayers: Gospel-Centered Prayers for the Whole of Life by Scotty Smith
"Are you ever at a loss when it comes to what to say in your prayers? Every Season Prayers offers a treasure trove of prayers that will lead you into a more intimate relationship with God. Topically arranged so you can easily find the sentiments that match your needs, this delightful book includes prayers for: • everyday concerns, from health and relationship issues to expressing gratitude; voicing our feelings, stories, and struggles to God; listening to the heart of God; congregational confession and worship; Advent, Lent, and Passion Week and more."
---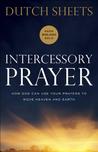 Intercessory Prayer: How God Can Use Your Prayers to Move Heaven and Earth by Dutch Sheets
My rating: 5 of 5 stars
"Prayer for the Impossible. Called foundational, revolutionary, illuminating, and motivating, Intercessory Prayer continues to be a classic work after more than 20 years. This rich, biblical teaching is full of fresh insights showing how vital our prayers are and how God has always planned to work in partnership with us through prayer. As Dutch explains the nuts and bolts of prayer with wisdom, gentleness, and humor, readers will find inspiration and courage to pray for the impossible–and the persistence to see prayers to completion."
---
The Intercessors Handbook: How to Pray with Boldness, Authority and Supernatural Power by Jennifer Eivaz
My rating: 5 of 5 stars
"How to Pray with Boldness, Authority, and Supernatural Power. In a world full of desperate need, we turn expectantly to prayer, hoping to witness the realities promised in Scripture. Most of us, however, seldom see the results we hope for. Why don't our prayers make more of a difference?
Beginning with her own experiences of breakthrough, Jennifer Eivaz offers much-needed direction and the biblical context for prayer that does make a difference–explaining the intervention of angels and demons, prophetic manifestations, and much more. She helps believers take hold of their authority and spiritual giftings and use them in the battle for victory. The Kingdom principles and study questions will help every believer navigate the spiritual realm of prayer by using the tools that make it truly effective."
---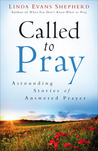 Called to Pray by Linda Evans Shepherd
My rating: 5 of 5 stars
"Most of us have felt it: that unexplained prompting in our hearts to stop and pray for a friend, a loved one, or even a stranger. Sometimes we dismiss the feeling as a stray thought about friends, families, or situations. Sometimes we are even awakened from a deep sleep with an even deeper need to go to God in prayer. Where do those urges come from? Are they truly from God? And do those prayers have any effect on the one we're praying for?
In Called to Pray, Linda Evans Shepherd dozens of inspiring true stories of people who have felt God's call to pray–and the astonishing results of those impromptu prayers. For those who wonder if prayer has any effect or doubt that God communicates with us personally, this heart-stirring book will amaze, inspire, and equip them to respond to those holy promptings"
---
Fervent: A Woman's Battle Plan to Serious, Specific and Strategic Prayer by Priscilla Shirer
My rating: 5 of 5 stars
"You have an enemy . . . and he's dead set on destroying all you hold dear and keeping you from experiencing abundant life in Christ. What's more, his approach to disrupting your life and discrediting your faith isn't general or generic, not a one-size-fits-all. It's specific. Personalized. Targeted.
So this book is your chance to strike back. With prayer. With a weapon that really works. Each chapter will guide you in crafting prayer strategies that hit the enemy where it hurts, letting him know you're on to him and that you won't back down. Because with every new strategy you build, you're turning the fiercest battles of life into precise strikes against him and his handiwork, each one infused with the power of God's Spirit."
---
The Battle Plan for Prayer: Attacking Life's Struggles Through Prayer by Stephen Kendrick
My rating: 5 of 5 stars
"Inspired by the Kendrick Brothers' new movie, War Room, this exciting new resource from the #1 best-selling author team behind The Love Dare and The Resolution for Men is designed to help anyone learn how to become a powerful person of prayer. The Battle Plan for Prayer begins with prayer's core purpose, its biblical design, and its impact throughout history. Readers will be guided scripturally through the fundamentals of how effective prayer works, inspired towards a closer, more intimate relationship with God, and shown how to develop specific prayer strategies for each area of life.
Prayer can accomplish what a willing God can accomplish. It should be your first plan of attack in all of life's battles, not your last resort. If you want to experience the joy of mightily answered prayer, then it's time to engage with God at another level."
---
Praying the Prayers of the Bible by James Banks
My rating: 5 of 5 stars
"My heart has heard you say, "Come and talk with me." And my heart responds, "Lord, I am coming." (Psalm 27:8) It can be hard to wrap our minds around the fact that the all-powerful, all-knowing Creator of heaven and earth wants to talk with us. What can we tell Him that He doesn't already know? The thought can leave us speechless. At other times, we're speechless for other reasons—the sorrow is too much, the pain is too strong.
An amazing thing about our God is that He will never leave us trapped within ourselves, without words or hope. He's given us His Word, which is full of prayers from His people. When we pray the prayers from God's Word humbly and expectantly, we open our hearts and lives to deeper faith, renewed strength, fresh blessings, and God's power to do "immeasurably more than all we ask or imagine."
---
The Red Letter Prayer Life: 17 Words from Jesus to Inspire Practical, Purposeful, Powerful Prayer by Bob Hostetler
My rating: 5 of 5 stars
"You're invited to sit at the feet of Jesus Himself and listen—and learn (and yearn)—as He prays. Seventeen chapters share the exciting, empowering, and enlightened Red Letter Prayer Life as Jesus spoke it, lived it, and shared it with His followers. Jesus uncovered secrets of prayer that could make the lame walk, open prison doors, and break down barriers between people. He did it for His followers then, and He does it for you today.
---
You Can Hear the Voice of God: How God Speaks in Listening Prayer by Steve Sampson
My rating: 4 of 5 stars
"What did Jesus mean when he said, "My sheep hear my voice"? According to Steve Sampson, he meant exactly what he said-that his followers would know and recognize his voice. In You Can Hear the Voice of God, Sampson explores what the Bible teaches about the still, small voice of the Almighty. Like two people conversing back and forth, an exchange between God and one of his followers involves both speaking and listening. "Whenever we pray, we should expect to hear something," Sampson says.
Can all Christians hear God? What are the best conditions for optimum listening prayer? How do we know it is God talking and not our own wishes or, worse, Satan's attempt to distract and deceive? Sampson gives clear directives for discernment, for cultivating intimacy with the Holy Spirit, and for developing a faith that responds to that quiet voice. Uncomplicated, unique, and practical, this book will prepare readers for the ultimate adventure-enjoying two-way conversation with God and knowing in a deeper way his great love for us."
---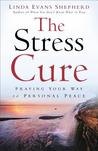 The Stress Cure: Praying Your Way to Personal Peace by Linda Evans Shepherd
My rating: 5 of 5 stars
"We live in a world filled to the brim with advice, and when it comes to dealing with stress, there's plenty of advice to go around. Sleep more, eat better, avoid this, seek out that. But more ideas about how to cope are not necessarily what we need if we're stressed and anxious. What we need is a cure. The true remedy to stress, Linda Evans Shepherd says, is prayer."
---
Praying Through Hard Times: Finding Strength in God's Presence by Linda Evans Shepherd
My rating: 5 of 5 stars
"No matter what the hurt, there is always, always hope. The storms of life visit us all, and at times we find ourselves ill prepared to weather them. Where is God when everything comes crashing down? Where is he when a job is lost? When a child goes astray? When the diagnosis is caner? Does he truly care?"
---
Extreme Prayer: The Impossible Prayers God Promises to Answer by Greg Pruett
My rating: 4 of 5 stars
Extreme Prayer by Greg Pruett
"What do you do when your whole spiritual life falls apart? It is in these heart-hungry moments—when we feel overwhelmed or alone, struggle with unanswered prayers, aren't sure what to do, or are crying out for God's help—that we are surprisingly poised to pray the most effective kinds of prayers possible. Access the power of extreme prayer – and watch as God's immeasurable glory is unleashed in your life."
---
Praying for Your Husband from Head to Toe: A Daily Guide to Scripture-Based Prayer by Sharon Jaynes
My rating: 5 of 5 stars
"In this much-needed book, Sharon Jaynes gives reader the whys, whats. And how-tos of praying for a husband." Elizabeth George, Author of A Woman After God's Own Heart
"As a wife, you have been given the privilege of serving as a mighty prayer warrior for your husband. Yet sometimes, even when poised with the best of intentions, you may find the task overwhelming. You wonder: What should I pray? How should I pray? What prayers does he need right now?
---
Organizing Your Prayer Closet: A New and Life-Changing Way to Pray by Gina Duke
My rating: 5 of 5 stars
"A recent survey revealed that 48 percent of the Christians surveyed were unhappy with their prayer life, 34 percent admitted that they did not know how to pray, and 31 percent were not sure that God ever responded to their prayers. The truth is we all want to grow our prayer lives, to be closer to Christ, to see prayer change things, and to make a difference. This books help you begin.
---
Experiencing God's Presence: Learning to Listen While You Pray by Linda Evans Shepherd
My rating: 5 of 5 stars
"God wants to hear from you – but He also wants you to hear from Him.
What if every time you had a conversation, your best friend never got a word in edgewise? Your relationship would be less than fulfilling – for both of you! In the same way, a fulfilling prayer life is more than just regularly talking to God. And it's more than checking items off a prayer list. God loves us so much that He wants us to draw close enough not only to talk but also to listen."
---
Deep Relief Now: Free, Healed, and Whole by Dennis Clark
My rating: 4 of 5 stars
"Go beyond self help and get spiritual help! A time comes for everyone when theirs and mental exercises just don't cut it, and you need something more to heal your pain. It's time to go beyond merely easing the hurt, and move toward complete, deep relief!
---