Alive in the Spirit: Experiencing the Presence and Power of God by A.W. Tozer
My rating: 5 of 5 stars
Is the Holy Spirit active in your life? Many people look to extraordinary experiences as evidence of the Holy Spirit. But what happens when the experience ends? How can we be filled with the Spirit every day in the ordinary things we do?
Many talk about being filled with the Holy Spirit, but few accept God's conditions. Tozer lays down these requirements in his trademark bold and wise way. Though every Christian has the Spirit, not every Christian is filled with the Spirit. Knowing the difference will change your life.
---
Hearing God's Voice Today: Practical Help for Listening to Him and Recognizing His Voice by James W Goll
My rating: 5 of 5 stars
"Discover the Adventure of Hearing God. God longs for a deeper, more intimate relationship with you. When we pray, He listens. Always. But do you listen for His response? You should! Hearing God is a privilege and delight available to every child of God."
"As it was in the beginning"… and so starts this book; "Hearing God's Voice Today; Practical help for Listening to Him and Recognizing His voice" by James Goll. In this book the author takes us right there… to the beginning and from there offers the readers the tools necessary and equips them draw nearer to God and truly believe that He wants to speak to us. In this book, we learn to recognize His voice while overcoming what gets in the way of that.
This book is such a great how-to guide to conversing with the King. My favorite quote from page 56 – "As full citizens and members of this royal priesthood of the Lord, we have the right to request, at any time, a personal audience with the Master of the universe. We can come boldly before His throne of grace to bring our request".
---
Praise Is My Weapon by Dan Willis
My rating: 5 of 5 stars
""I will sing praise to thy name, O thou most High. When mine enemies are turned back, they shall fall and perish at thy presence." Psalm 9:2
Life is hard. Even as believers, we are constantly barraged by challenges, sickness, attacks, and tragedies. Loved ones die. Good people get hurt. The faithful are besieged. It is no wonder we are often plagued by questions that plant seeds of doubt in our minds.
And yet, we are not powerless or empty-handed in the battle for our faith. As children of God, we are legal authorities in the kingdom of heaven, charged with taking control of our circumstances and enlarging our territory. And one of our greatest weapons in the war is praise."
---

Releasing Spiritual Gifts Today by James Goll
My rating: 5 of 5 stars
"This book isn't just about discovering our spiritual gifts, or even receiving them-it's about releasing them! God wants you to experience the great wonder of moving in and through His grace, on a daily basis.
As you read, you'll first gain an overview of spiritual gifts and be introduced to the way the Holy Spirit moves and operates within them. Then you'll explore the nine most widely recognized spiritual gifts. These are not the only gifts God gives His children, but they are vital to understand and then activate according to His leading."
Releasing Spiritual Gifts Today by James Goll is a very well written in-depth study of the Gifts of the Holy Spirit. In this book, the author clearly explains the Gifts, which are given freely by God to believers. The book is filled with an abundance of examples of not only how the gifts were used in Biblical times, but are still valid and in use in our modern, contemporary world.
---
A Transformed Mind: Change Your Thoughts to Change Your Life by Tracy Wainwright
My rating: 5 of 5 stars
"The mind is a small part of our body, but has a huge impact. Just like this book – small, yet extremely powerful. If you're looking to transform your life, this is the perfect place to start. If you don't believe you have the power to change your thoughts, you will."
---
Created with Purpose: Unlocking Your Dreams and Fulfilling the Desires of Your Heart by Johannah Clark Leach
My rating: 5 of 5 stars
"Become the Confident, Secure, and Powerful Person God Designed You To Be. Do you live in fear of what others think of you? Do you worry about missing out on what God has for your life? Are you lacking the confidence or courage to pursue the dreams in your heart?

---
Glory Days: Living Your Promised Land Life Now by Max Lucado
My rating: 5 of 5 stars
Keep walking. This may be the day your Jericho walls come down.
We all face them. Strongholds with a strong hold on our lives. Roadblocks to our joy. Obstacles in our marriages. Fortresses of fear blocking us from peace. How can we bring down these walls that keep us from the future God promises? Remember the story of Joshua and the battle of Jericho? Those were some formidable foes and big barriers.
Max Lucado says the book of Joshua is in the bible to remind us of one thing: God Fights For Us! We can overcome, because He has already overcome.
We were not made to stand in the shadow of our walls and quake. We were made to stand on top of Jericho's rubble and conquer. We win, because God's already won.
Need a new battle plan for life? Keep walking, keep believing. These may be your Glory Days.
---
Hearing God: For Intimacy, Healing, Creativity, Meditation, and Dream Interpretation by Mark Virkler
My rating: 4 of 5 stars
"In this interactive journal, Dr. Mark Virkler takes you on a life-changing journey that reveals three powerful ways you can hear God's voice and recognize how He is speaking in your life everyday. As you hear God's voice and respond to what He is saying, you will receive direction, experience healing, and unlock creativity in your life like never before"
---

AHA: The God Moment That Changes Everything by Kyle Idleman
My rating: 5 of 5 stars
"We've all had "aha!" moments in our lives, times when a sudden revelation surprises us with insight. According to pastor and bestselling author Kyle Idleman, we can experience this same kind of "aha!" in our spiritual lives. With everyday examples and trademark testimonies, Idleman draws on Scripture to reveal how three key elements can draw us closer to God and change our lives for good.
Awakening to the reality of our true spiritual condition, we see ourselves and our need for a Savior with renewed honesty. This realization leads to action, obeying God's commands and following the example set by Christ. As we see in the transformation of the prodigal son, the result is a life-changing, destiny-altering collision—an AHA moment that leads us home to our loving Father."
---

Prevail: Discover Your Strength in Hard Places by Cindy Trimm
My rating: 5 of 5 stars
"Your problems don't define you; they refine you. Sometimes life feels like a roller coaster ride filled with ups, downs, twists, turns, and unexpected sudden drops. Instead of moving forward with peace and purpose, our lives spin out of control. When chaos and uncertainty threaten to make you feel helpless . . . what do you do? Don't let life's detours take you for a ride. Get back in the driver's seat!"
---
The Jesus Training Manual by Richard Mull
My rating: 5 of 5 stars
"What happens when you look into the box where you think God is contained and you find He isn't there? What happens next may surprise you! You will learn how to hear God's voice, that God still does miracles, that demons are real and how to deal with them, and truths about the Kingdom of God, healing, your spiritual authority, spiritual battles, and your armor."
---
Sons of Dust: The Roots of Biblical Manliness by Chris Clevenger
My rating: 5 of 5 stars
"Masculinity has been misrepresented in contemporary society. Men have become associated with either two camps one which is too similar to femininity to be complementary, and another that is a caricature which casts modern men as Neolithic knuckle-draggers in a primetime sitcom.
Millions of modern men need a rallying point, a deep understanding of the masculine spirit capable of transforming our cultural concept of masculinity."
---
Abandon: Laying Aside Your Plan for God's Purpose by Tim Timberlake
My rating: 5 of 5 stars
"Your secret to living the life beyond your wildest dreams! Do you have a vision for how your life should turn out? Big plans? Great dreams?
Get ready to trade it in for something a whole lot bigger and infinitely greater! In Abandon, Tim Timberlake shows you how to exchange your life for God's life. Obedience to God is not a burden, as many have thought. Instead, obedience is your key to experiencing the life of Heaven right now!"
---
Everyday Grace: Infusing All Your Relationships with the Love of Jesus by Jessica Thompson
My rating: 4 of 5 stars
"It's hard, sometimes, to get over that thing your husband said weeks ago; or to resolve that tension with your colleague at work; or to fix a lifelong friendship that's taken a bad turn. The biggest problem with relationships is they always seem to involve sinners–including ourselves. So how can we form strong, resilient bonds with people who, like us, are bound to mess up?
Thankfully, it's not all on us. Through stories and biblical teaching, Jessica Thompson helps us move beyond trying to "fix" the people we interact with, and shows us a better way. Though our relationships may be marred by tension and frustration, because we are welcomed and known by Christ, they don't have to stay that way."
---
From Good to Grace: Letting Go of the Goodness Gospel by Christine Hoover
My rating: 5 of 5 stars
"God is calling you to something greater than good. So many of us feel as if we do not do enough and, in fact, are not enough. We try hard to be good–a good friend, mom, wife, Christian, employee, or ministry leader–hoping for that "atta-girl" from God, some heavenly assertion that we matter. In the process, we find ourselves living by a lesser gospel: the gospel of goodness. It's a gospel without grace, and in the end, it's good for nothing."
---
The Miracles In You: The Power of Positive Living by Mark Victor Hansen
My rating: 4 of 5 stars
"Many people do not believe in miracles. Both Mark Victor Hansen and I have experienced or witnessed many miracles. His descriptions of these events in this book will help all readers, including skeptics; believe in those inexplicable, non-tangible aspects of humanity." —Ben Carson, MD, New York Times Bestseller of One Nation. Believe The Miracle. See The Miracle. Be The Miracle."
---

Fasting God's Way by Francis Epps
My rating: 5 of 5 stars
"Are you ready to throw in the towel because you feel defeated or because you just don't know how to fight a spiritual battle?
If so, it's time to learn how to discern the mind of God through fasting and praying.
In the process of pursing these principles, God is going to teach you how to fight your battles. God created fasting so we can walk in the Spirit. When we abide in the spirit, we begin to discern the mind of God. Fasting allows our thought process to change so we can see life from God's perspective"
---
Spiritually Strong: The Ultimate 6-Week Guide to Building Your Body and Soul by Kristen Feola
My rating: 4 of 5 stars
"Spiritually Strong is a six-week program designed to help you get in better shape spiritually and physically. As Timothy says, "For physical training is of some value, but godliness has value for all things, holding promise for both the present life and the life to come" (4:8). This book teaches you how to train yourself in godliness through the implementation of six disciplines—Bible study, prayer, fasting, healthy living, financial stewardship, and serving others."
---
Life Unstuck: Finding Peace with Your Past, Purpose in Your Present, Passion for Your Future by Pat Layton
My rating: 5 of 5 stars
"Everyone has felt stuck at some point in life. Our inertia is gone, momentum is wiped out, and life trudges on devoid of passion. But God has so much more than this planned for his daughters. With passion and enthusiasm, Pat Layton invites women to imagine their world unstuck–a place where they feel at peace with the past, find purpose in the present, and revel in the possibilities that the future holds. With her rousing Unstuck Manifesto, she delves deep into the areas readers get stuck in the most–relationships, finances, ministry, career, and more–and, with the Scriptures as her guide, unveils the path to positive forward movement."<
---
Simply Open: A Guide to Experiencing God in the Everyday by Greg Paul
My rating: 5 of 5 stars
"The simplest, most transformative prayer you may ever pray—the five senses prayer. This book invites you to a simple practice of prayer and awareness that can turn each ordinary workday into a deepening spiritual journey.
No matter where you are or how busy you get, your five senses are always "on," your mind and heart responsive to what you perceive. These channels of awareness can take you deeper into God's great mystery if you practice the discipline of submitting them to the One who is closer than you imagine. The beauty of such a contemplative path is that you can follow it anywhere—alone or in company, in quiet meditation or amid the bustle of your craziest day."
---
What Am I Supposed to Do with My Life?: God's Will Demystified by Johnnie Moore
My rating: 3 of 5 stars
"For nearly two thousand years too many Christians have embraced a lie. The lie is cast in spiritual tones and seems, on the surface, to be innocent enough.
Yet, it's a lie so deceptive that even the most pious believe it without knowing it, and its widespread practice has robbed the world of a thousand types of good that would have been hers had Christianity followed God's path. It's a lie so clandestine that it has weaved its way in and out of Christian history nearly undetected.
It's a lie so sinister that it has robbed millions of people of their souls. What is the lie? It is that "God's will" is hard to find. It isn't."
---
Own Your Life: How to Grow a Legacy of Faith, Love, and Spiritual Influence by Sally Clarkson
My rating: 5 of 5 stars
God has made you with the capacity to live courageously, to have great faith, and to become a person of influence. Will you follow hard after Him and live into your potential? Will you choose today to own your life?
Learn to live each day with spiritual intention—and see how your moment-by-moment decisions add up to a breathtaking life story that shines with God's love. You'll come alive with confidence, energy, and purpose as you discover His fingerprints in your most ordinary days. Your life will become a lasting legacy that points others to Him—and He will honor your decisions beyond what you ever imagined."
---
The Joseph Blessing: Change the World with Your God-Given Dream by Jordan Rubin
My rating: 5 of 5 stars
"Step into God's divine blessing and fulfill your dreams! Are you ready to see your dreams go from vision to fulfillment? To see God's promised blessings revealed in your life? Join Jordan Rubin and Dr. Pete Sulack as you discover how Joseph endured incredible opposition and persecution, only to be elevated to a key position of influence and watch his dream come to pass before his very eyes.
You'll unlock the powerful secrets that will take your dreams from birth to fulfillment. In this easy-to-follow process, you will learn how to protect your dream during seasons of adversity, resurrect vision when you believe it is dead, have hope even when you feel like your dream is impossible, and watch God miraculously fulfill your life purpose through your God-given dreams."
---
Empowered by His Presence: Receiving the Strength You Need Each Day by Kevin G. Harney
My rating: 5 of 5 stars
"Receive God's power for the journey ahead. Are you in need of strength, encouragement, and hope? Empowered by His Presence will set you free to face life head-on and follow God's glorious vision. Kevin Harney weaves together biblical stories and modern narrative to form and stunning tapestry of grace and hope? In the pages of this book, you will find four surprising and God-given sources of strength: Suffering, Loss and Pain, Sabbath and Rest, Community, and Mission and Purpose. Discover how each of the power sources can help you live boldly, serve humbly, and overcome life's obstacles."
---
The Making of an Ordinary Saint: My Journey from Frustration to Joy with the Spiritual Disciplines by Nathan Foster
My rating: 5 of 5 stars
"Nathan Foster was just a child when his father's classic Celebration of Discipline brought the spiritual disciplines into the popular evangelical consciousness. More than thirty years later, Nathan made his own journey into the spiritual disciplines. As he sought day by day to develop habits that would enable him to live more like Jesus, he encountered problems both universal and unique. In this engaging narrative, he draws insights from saints of old to uncover fresh ways of living for the contemporary, postmodern Christian."
---
Dancing on the Head of a Pen: The Practice of a Writing Life by Robert Benson
My rating: 4 of 5 stars
"In this masterful blend of the practical and the spiritual, Robert Benson invites you into the work and rewards of a writer's life. More than a primer on effective writing, Dancing on the Head of a Pen is a winsome guide to the place in the heart where the life of the spirit meets the life of art."
---
My Breaking Point, God's Turning Point: Experience God's Amazing Power to Restore by Ricky Texada
My rating: 5 of 5 stars
"At some point in our lives, most of us will experience a loss so devastating that it knocks the wind out of our souls and leaves us gasping for hope. In My Breaking Point, God's Turning Point, Ricky Texada shares his own story of unexpected loss transformed into unimaginable blessing, offering new perspective on God's amazing ability to restore his people. After losing his wife Debra in a devastating car accident, Ricky wondered if he would ever be able to trust God with the certainty he once had, let alone ever love again. Biblically based and borne out of Texada's own experiences, My Breaking Point, God's Turning Point shares the much needed hope and practical guidance to help people get back on their feet and experience the healing balm of God's loving care."
---
Radically Normal: You Don't Have to Live Crazy to Follow Jesus by Josh Kelley
My rating: 5 of 5 stars
"It's okay to be normal. Do you feel that your life is pleasing to God – almost? When you hear about pastors, missionaries and Christian celebrities, do you feel just a bit "less-than." As if your life isn't quite as meaningful as theirs? You're not alone – that guilty feeling is all too common in the church. Josh Kelley shows why you can be a fully committed follower of Jesus Christ without selling everything you own and becoming a missionary to India."
---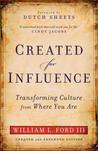 Created for Influence: Transforming Culture from Where You Are by William L Ford
My rating: 5 of 5 stars
"We are being called to a higher realm of influence. The church today is uniquely positioned to influence the culture around her. But Christians are walking away from this opportunity, this responsibility, in favor of building a separate, "safer" culture of our own.
Yet we've been given the tools to break personal strongholds and change the course of nations. Now revised and expanded, Created for Influence, shows how you can do this–and transform culture right where you are. Sustained prayer can release kingdom influence everywhere, from your own home to governments and judicial systems. It can undo demonic assignments and break the bonds that hold lives and nations captive.
This revolutionary book is calling you from a spot on the sidelines to a position on the front lines. It's for believers who are ready to join the fight and grip the heart of God in prayer. Are you ready to transform history?"
---
Partly Cloudy with Scattered Worries by Kathy Collard Miller
My rating: 4 of 5 stars
"If you're facing a storm – trial, temptation, worry, uncertainty, regret, or fear – Partly Cloudy with Scattered Worries will increase your faith and help you trust God as you find peace in all kinds of weather."
---
No More Ordinary by Carolyn B McLeod
My rating: 3 of 5 stars
"Living the life you were made for. Learn how to tackle life with zest in spite of the circumstances. Discover how to live the life you were made for, as you learn what made the difference for people like Corrie Ten Book, Robert LeTourneau, Ruth Bell Graham and many others."
---
A Rooster Once Crowed: A Commentary on the Greatest Story Ever Told by Bryant Cornett
My rating: 5 of 5 stars
"We live in those few moments between the first and the second crow of the rooster – between decision and indecision, between knowing and being known. But do you even care? Small; decisions made today establish our path for all time and yet we people with a piece of this and a taste of that we diet on wisdom from antiquity and gorge on culture that is next month's joke. This story is an opportunity to gorge on scripture – from Genesis to Revelation – in context it is the gospel of Jesus Christ and an opportunity to see for yourself what it actually is. Rather than what we mold it to be and to finally choose whether or not to care."
"Through small stories and a modern context, this book will help you understand and decide what you believe about the greatest story ever told."
---
The Supernatural Power of a Transformed Mind Expanded Edition: Access to a Life of Miracles by Bill Johnson
My rating: 3 of 5 stars
"Many Christians believe in miracles, but they are not accessing the supernatural as a way of life. Is this you? Are you ready to experience the miraculous lifestyle that Jesus made available to you because of the Cross? Your access to a lifestyle of signs, wonders, and miracles starts by changing the way you think."
---
Spoken For: Embracing Who You Are and Whose You Are by Robin Jones Gunn
My rating: 5 of 5 stars
"A great romance was set in motion before you were born. A relentless Lover is pursuing you, and He has made His intentions clear. He wants you to be His forever. How will you respond to the One who longs for you to be His with your whole heart?"
---
The Storm Inside: Trade the Chaos of How You Feel for the Truth of Who You Are by Sheila Walsh
My rating: 4 of 5 stars
The Storm Inside – Trade the Chaos of How You Feel for the Truth of Who You Are by Shelia Walsh
"Women feel the storm activity all around. We find ourselves teetering somewhere between everyday chaos and crisis. We can feel a storm brewing, we are in the middle of a storm, or we are facing the aftermath of a storm. But don't be afraid because it is possible to grow through turbulent times. Storms show you what's really going on inside, reveal what you really believe, and actually make you stronger."
---
Heart Wide Open: Trading Mundane Faith for an Exuberant Life with Jesus by Shellie Rushing Tomlinson
My rating: 5 of 5 stars
"As a Bible-believing churchgoer, author Shellie Tomlinson harbored a secret in her good-girl heart. She longed for something more than routine faith; she wanted to love God with a genuine, all-consuming passion. So she got honest with Him: "I admit it. I don't love you like I should, but I want to love you. Help me!"
Are you ready to stop struggling to make time for God and instead live every moment with God?"
---
Crash the Chatterbox: Hearing God's Voice Above All Others by Steven Furtick
My rating: 5 of 5 stars

"The voice you listen to will determine the future you experience. Inside your head and heart is a chatterbox. Its lies are keeping you from realizing your God-given potential. But what can you do about them?
In Crash the Chatterbox, Pastor Steven Furtick focuses on four key areas that are most debilitating: insecurity, fear, condemnation, and discouragement. Learn to Crash the Chatterbox… and hear God's voice above all others."
---
Saved But Still Enslaved: Breaking Free from Strongholds by Bobby Davis
My rating: 4 of 5 stars
"It's possible to be a new creation in Christ… yet still struggle with strongholds. If you're tired of feeling defeated, this book is for you. There's hope. Christianity isn't just about the future freedom in heaven; it's about entering your promised land and embracing the power of God now. You can accept this freedom, overcome your strongholds and fulfill God's perfect plan for your life, starting today."
---
Pathways to the King: Living a Life of Spiritual Renewal and Power by Rob Reimer
My rating: 5 of 5 stars
"The Church in America desperately needs revival. We have fewer people attending church now (percentage wise) than ever before in the history of the United States. But how do we experience revival? How do we usher in God's kingdom on Earth and see the next great spiritual awakening? It starts with you. God wants you to draw near to Jesus and to be a carrier of His kingdom, and He wants you to expand the kingdom to others – just like Jesus did. Pathways to the King provides you with 8 Kingdom pathways that you'll need to incorporate and internalize in order to experience and expand God's kingdom on Earth. When you begin you walk down these pathways, you will develop intimacy, authority, and power in Christ and become a kingdom-minded person living out the compelling life of the Spirit."
---
The Four Cups of Promise: The Journey to Fulfillment God Planned for You by Chris Hodges
My rating: 5 of 5 stars
"What if God has had a plan for you since the very beginning? The God of the universe has made you some big promises. He made them first in the Old Testament, but they remain at the core of His heart and have never changed. They're the key to your fulfillment and to His plans for you, both in this life and the life to come. In the ancient celebration of Passover, we find a picture of God's heart for us in the four cups of whine representing each of these core promises. Now, in Four Cups… the author reveals that no matter where we are on our spiritual journey, these four cups of promise provide a simple, powerful, unforgettable way of reaching our potential and growing closer to God."
---
Let Me Fall: The Love Story Between God and His Dimwitted Daughter by Beth Pensinger
My rating: 5 of 5 stars
"Anyone who's struggled with an addiction of some sort would agree that finding lasting contentment from the actual addiction is much like a dog chasing its tail – only a lot less adorable."
"Let Me Fall is the love story between God and His dimwitted daughter. I'm the dimwit in case you were wondering."
"Let Me Fall is where my literal world figuratively collides with God as He shows me once more of who I am and who He is. My story isn't a formula for falling in love with God. But I would be thrilled if it is a catalyst for others to do the same."
---
My rating: 5 of 5 stars
"Stop Trying To Become Who You Already Are" "If you have been around Christian circles long enough, you have heard the phrase, "child of God." As believers, we use language like this all the time describing our relationship with the Father – but do we really know what it means? What if we actually lived out the relationship and reality we talked, preached, and sung about? Easy. We would change the world. The roadblock preventing us from stepping into our identities as sons and daughters of God is not lack of discipline, resources, or creative ideas. We have all this…
---
God Is Just Not Fair: Finding Hope When Life Doesn't Make Sense by Jennifer Rothschild
My rating: 5 of 5 stars
God Is Just Not Fair by Jennifer Rothschild
"Do you believe God is just not fair? If you're like Jennifer Rothschild, you wrestle with question when you experience painful circumstances. Does God care? Does he hear my prayers? Is he even there? Having become blind as a teenager, Jennifer overcame daunting obstacles, found strength in God and launched a successful speaking and writing ministry. Then in her forties, everything changed.
This is a book about finding more than just answers; it's for anyone who needs hope when life doesn't make sense – for all who reach for a God who feels distant."
---
Home Behind the Sun: Connect with God in the Brilliance of the Everyday by Timothy D. Willard
My rating: 4 of 5 stars
Home Behind the Sun – Connect with God in the Brilliance of the Everyday – by Timothy Willard and Jason Locy.
"How often do you encounter the healing and beauty, the hope and the Glory of Christ? Home Behind the Sun offers us a glimpse of joy in the daily grind or work, relationships, and parenting: healing for our suffering: forgiveness in the midst of our hurts; and purpose through the journey. We can live each and every day with an eternal perspective. And we can share this light with the world around us."
---
At Peace in the Storm: Experiencing the Savior's Presence When You Need Him Most by Ken Gire
My rating: 5 of 5 stars
At Peace in the Storm – Experiencing the Savior's Presence When You Need Him Most by Ken Gire.
"When you need a Savior who stills the wind. Here's the rub about faith. Sure, prayer often changes outward things, but the only guaranteed miracle God offers us is inner peace, the peace of Christ. A Peace so deep that it cannot be analyzed or understood… the inexplicable and supernatural calm in the storm, is the greatest miracle you'll ever experience."
---
Your Guide to Living Life Out Loud by David Bell
My rating: 5 of 5 stars

"Life can be frantic, fleeting and full of challenges. It can also be a wonderful discovery, packed with adventure. Whatever your experience, there's no doubt that it doesn't come equipped with a step-by-step manual or an instant answer to each daily question. That's where this book comes in. Having faced some of life's most daunting issues at an early age, Dave Bell reflects on his path so far and shares some practical insights that will help you plot your own course as you navigate your own uncharged territory. Focusing on the simple truth of God's word. This real, honest life-story invites us to take a deep breath, look ahead and begin to live every day to the full."
---