Unmasking the Devil: Strategies to Defeat Eternity's Greatest Enemy by John Ramirez
My rating: 5 of 5 stars
"Satanist-Turned-Evangelist Gives You the Inside Strategy to Defeat the Devil's Plans!
Many people, even Christians, deny the devil's power. John Ramirez doesn't have that luxury—he experienced the prince of darkness up close and personal.
In the impoverished streets of the South Bronx, John Ramirez found "acceptance" from a family of witches and warlocks. These practitioners of dark arts trained him to be a high-ranking satanic priest—a story told in his first book, Out of the Devil's Cauldron. However, everything changed when he met the living Christ."
---
Spiritual Housecleaning: Revised and Updated by Alice Smith
My rating: 5 of 5 stars
"Demons are nesting in Christian homes–and even churches. Hard to believe? As Eddie and Alice Smith explain, a small opening is all it takes for evil spirits to gain access. Once in, they defile the spiritual atmosphere and damage our relationships, our ministries, our success, even our health.
We can stop these evil infestations. In this newly revised and expanded edition, the Smiths offer amazing real-life stories showing the inroads that spiritual pollution makes–and how to get rid of it. Readers will learn to detect the presence of demons, follow the seven-step biblical process of purification, and close the door behind these intruders for good."
---
Kingdom Authority by Kynan Bridges
My rating: 5 of 5 stars
"Kingdom Authority provides deep biblical insight into the authority that you possess as a child of God. You will discover how to invoke God's Word and the name of Jesus to gain victory over the enemy and take dominion over the powers of darkness and their torments, finding freedom from fear, depression, lust, sickness, poverty, and bondage of all types."
---
God's Plan for Spiritual Battle by Russell Stendal
My rating: 4 of 5 stars
"I love a good fight. When unjustly attacked, I have learned to seek the guidance and leadership of the Holy Spirit and retaliate by Overcoming Evil with Good. There is a huge difference between a Peacemaker and a Pacifist!
This Battle Plan for spiritual warfare, gleaned from the life and message of Jesus, especially the Sermon on the Mount and the Beatitudes."
---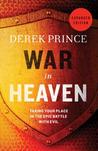 War in Heaven: Taking Your Place in the Epic Battle with Evil by Derek Prince
My rating: 2 of 5 stars
"A cosmic view of God's plan-from start to finish! The Bible says that when God laid the foundations of the earth, the angels were watching. In time, one of those angels would be the main player in a rebellion to wrest God of His magnificent creation. Thus began a battle of epic proportions that leaves today's believer with many questions. -Why did God allow evil in the first place? -If evil was defeated at the cross, why does it continue to exist? -Does spiritual warfare really make a difference? -How are we to await the end of the age?"
---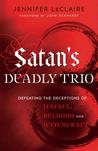 Satan's Deadly Trio: Defeating the Deceptions of Jezebel, Religion and Witchcraft by Jennifer LeClaire
My rating: 4 of 5 stars
"You're on your guard for the Jezebel spirit. But did you know that it doesn't work alone? Just as the holy Trinity works together to deliver, redeem and then guide us day by day, an unholy trinity is doing everything possible to put us in bondage, strip us of our God-given identity and derail our Kingdom purpose.
Satan's abominable threesome–the spirits of Jezebel, religion and witchcraft–is coordinating its attack. Are you? Veteran spiritual warrior Jennifer LeClaire pulls back the curtain on the calculated and systematic strategies of the enemy while offering practical biblical tactics to combat this deadly trio. Her Spirit-anointed discernment will help you understand the hidden schemes of these spirits and, with God's help, to resist them.
---

The Pendulum: Come Back Swinging Through the Difficult Times by Rickie Rush
My rating: 5 of 5 stars
"You Haven't Missed It; You're Right on Time! Many of God's people feel guilty for going through difficult seasons. We think depression is spiritual weakness. In challenging circumstances, we ask: "God, where are You?" We consider the state of our lives and become discouraged, assuming we are not where God wants us to be. But what if we are?
What if the very circumstances that threaten to destroy us are the very things that launch us into our God-ordained moments of destiny? In The Pendulum, Pastor Rickie Rush shows you that there is a time for everything under heaven.
---
Spiritual Warfare Jesus' Way: How to Conquer Evil Spirits and Live Victoriously by Larry Richards
My rating: 4 of 5 stars
"Do you have problems in life that won't go away? Struggles you can't seem to overcome? It isn't surprising. Like it or not, you are immersed in an invisible war. The problem is, most of us don't know how significantly, or directly, our lives are influenced by unseen battles and beings.
Jesus Himself is our model. He taught us how to fight. Here, respected teacher and bestselling author Larry Richards draws not only from the words of Jesus, but also from His actions in dealing with evil spirits, to offer a biblical, balanced approach to spiritual warfare."
---
The Illusion of More: The Trick to Finding Faith in a World of Deception by Harris III
My rating: 5 of 5 stars
"Is the grass really greener on the other side… or is this the ultimate illusion? The first man and woman were closer to God than any other creature on Earth. They had everything they could have ever wanted: healthy, timeless bodies, an endless supply of food and water, and a beautiful garden in which to live and play. Still, they reached for the mirage of MORE.

---
Deliver Us from Evil: A Pastor's Reluctant Encounters with the Powers of Darkness by Don Basham
My rating: 4 of 5 stars
"Are Christians at risk of demonic invasion? "Absolutely not," thought Pastor Don Basham when another pastor suggested evil influences might be causing turmoil in his church and failures in his ministry. But after more troubling and perplexing problems, Basham began to discover he was wrong. But after more troubling and perplexing problems, Basham began to discover he was wrong. In this page-turning account, Basham chronicles his reluctant journey from disbelief to acceptance in the existence of demonic spirits. More than a story, he imparts what he discovered about demons, the difference between infestation and possession, and how to engage in spiritual warfare."